By working with Brian Raymond (a commercial fisherman from Rhode Island) PIP Photographer Andy Murch was able to photograph three species of deepwater skates that regularly come to the surface as bycatch in the squid fishing industry.
The boat that Brian works on mostly trawls for squid but trawling is an indiscriminant form of fishing so the by-catch levels are often high. Recently, Brian's skipper has been dragging in 1000ft where there are a number of vulnerable skate species so we worked out a plan to orchestrate a catch and release photo shoot with some of the skates that he rescues from the nets. This was a simple way to acquire some shots of never before photographed species.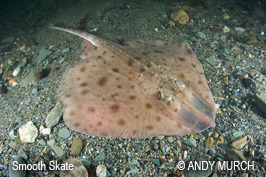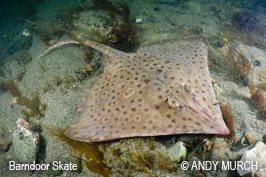 ANDY'S JOURNAL NOTES FROM THE ROAD
Brian and his girlfriend Jen met me at a local beach and Brian pulled a tote of slowly flapping skates out of the back of his truck. When I found that he had managed to bring not one but three deep sea skate species I was very excited.
The plan was for me to swim out to clear water and release the animals on the sand and rocks where I could get some usable ID shots before they swam away. I was petrified that they would bolt before I could get any images but that turned out to be the least of my problems.
R.I. is recovering from the worst flood in 200 years which has thrown millions of gallons of dirty water into inshore coves like the one we were shooting in. To make matters worse, the day we chose to release the animals, the weather was far from ideal. Strong winds, lashing rain and turbulent seas made the swim out from shore rather daunting. I went out for a test run just with my camera and found the going pretty tough. Due to a miscommunication I was also considerably underweighted in my White's Catalyst drysuit.
Unperturbed, I kicked back to shore, found some scrap iron on the beach and strapped it to my tank. Then, I filled my pockets with rocks and ventured out again, this time with my camera in one hand and a lobster trap full of deep sea skates in the other.
Clutching such a voluminous object in rough seas put me in an unexpected position. I found myself at the mercy of the rip which dragged me out of the bay into an area that was churning like a washing machine. Looking down, the visibility was so bad that I couldn't see my camera dangling at my side, let alone photograph marine life. I tried retreating but I could barely make any headway back to the beach and I was slowly drifting sideways onto a patch of submerged rocks that was throwing extra large waves in my direction.
I tried sinking under the buffeting chop but with all the sand suspended in the water my drysuit inflator jammed open, lifting me back to the surface and filling my suit to Michelin Man proportions. I had no choice other than to disconnect the air hose but as the air trickled out, the sea trickled in and within a minute or two my suit was completed flooded.
Now I was starting to feel a bit uncomfortable. I'm not one to panic but I was riding so low in the water that I couldn't tell which way the shore was. While I was deciding whether I should drop the lobster trap (making the entire trip to New England a disaster) I spotted Brian waving from the rocks with a pair of binoculars around his neck. With new resolve I inched towards shore. Cage in the left hand. Camera in the right. KICK! Look up. reorient to shore. Head down. KICK!
It was slow going but I made it back into the shallows and dropped the cage in a sheltered spot to rest. There was no way I was heading out to sea again so I gently lifted a skate out of its confinement and let it go. The skate swam around a little and then settled onto the sand, cupping its body to provide the suction necessary to resist the surge that was still pulling me around.

By working with a fisheye lens about six inches away from each skate, I was able to get some images that looked like they were shot in much clearer water than they really were. After an hour I dragged my wet and weary bones out of the bay and left the endangered skates to find their way out to sea.